Notion is an all-in-one productivity tool and note-taking app. It combines note-taking, task management, databases, and more in one platform. That is the reason why Notion Project Management Systems are gaining popularity. Its flexibility and collaboration features make it ideal for personal and team use.
Why Notion Project Management System
Notion is an excellent choice for project management due to its versatile features and collaborative capabilities. Here are some reasons why you should consider using Notion for project management:
All-in-One Platform: Notion combines various functionalities like note-taking, task management, databases, wikis, and more in a single platform. This means you can centralize all your project-related information in one place, streamlining your workflow.

Customizable Workspaces: Notion allows you to create customizable workspaces tailored to your project's specific needs. You can design layouts, add content blocks, and organize information in a way that suits your project management style.

Real-Time Collaboration: Notion facilitates real-time collaboration, enabling team members to work together simultaneously on the same documents. This fosters seamless communication and promotes efficient teamwork, especially in remote or distributed work environments.

Flexibility in Task Management: Notion's task management features, such as to-do lists, kanban boards, and calendars, provide flexibility in organizing and tracking project tasks. You can prioritize, assign, and monitor progress, ensuring better project control.

Documentation and Knowledge Sharing: Notion's wiki-like capabilities allow you to create an extensive knowledge base for your project. Documenting processes, guidelines, and best practices ensures information is readily available for the team, promoting continuity and reducing knowledge gaps.

Integration with Other Tools: Notion integrates well with various applications and services, allowing you to connect data from other platforms seamlessly. This interoperability helps streamline your project management workflow.

Cross-Platform Accessibility: Notion is accessible across multiple devices and platforms, including desktops, smartphones, and tablets. This ensures you can manage your projects and collaborate with your team from anywhere, at any time.

User-Friendly Interface: Notion's intuitive and user-friendly interface makes it easy for both individuals and teams to adopt the platform quickly. Its simple and clean design contributes to a more efficient project management experience.
Notion as Collaboration Platform
Using Notion for teams offers a plethora of benefits, making it an invaluable tool for collaborative work. Its all-in-one platform allows teams to centralize project information, tasks, and communication, fostering seamless collaboration and knowledge sharing. Real-time editing and commenting features enhance team productivity, enabling simultaneous work on shared documents. Notion's customizable workspaces adapt to diverse team needs, accommodating different project management styles. With integrated task management tools, like to-do lists and kanban boards, teams can efficiently track progress and responsibilities.
Notion templates to the rescue
Notion templates play a crucial role in creating the perfect project management system by offering a wide range of benefits and flexibility. Firstly, the abundance of Notion templates dedicated to project management provides a head start, saving time and effort in building a system from scratch. Teams can explore and select templates that align with their project complexity and goals, tailoring the solution to their specific requirements.
Secondly, the ability to choose templates that fit the team's needs and workflow ensures a seamless transition and easy adoption. Whether it's a simple to-do list, a comprehensive task tracker, or a sophisticated project dashboard, teams can find templates that suit their preferred methodologies and working styles. This ensures that everyone can quickly adapt to the project management system without a steep learning curve.
Notion's official notion project management template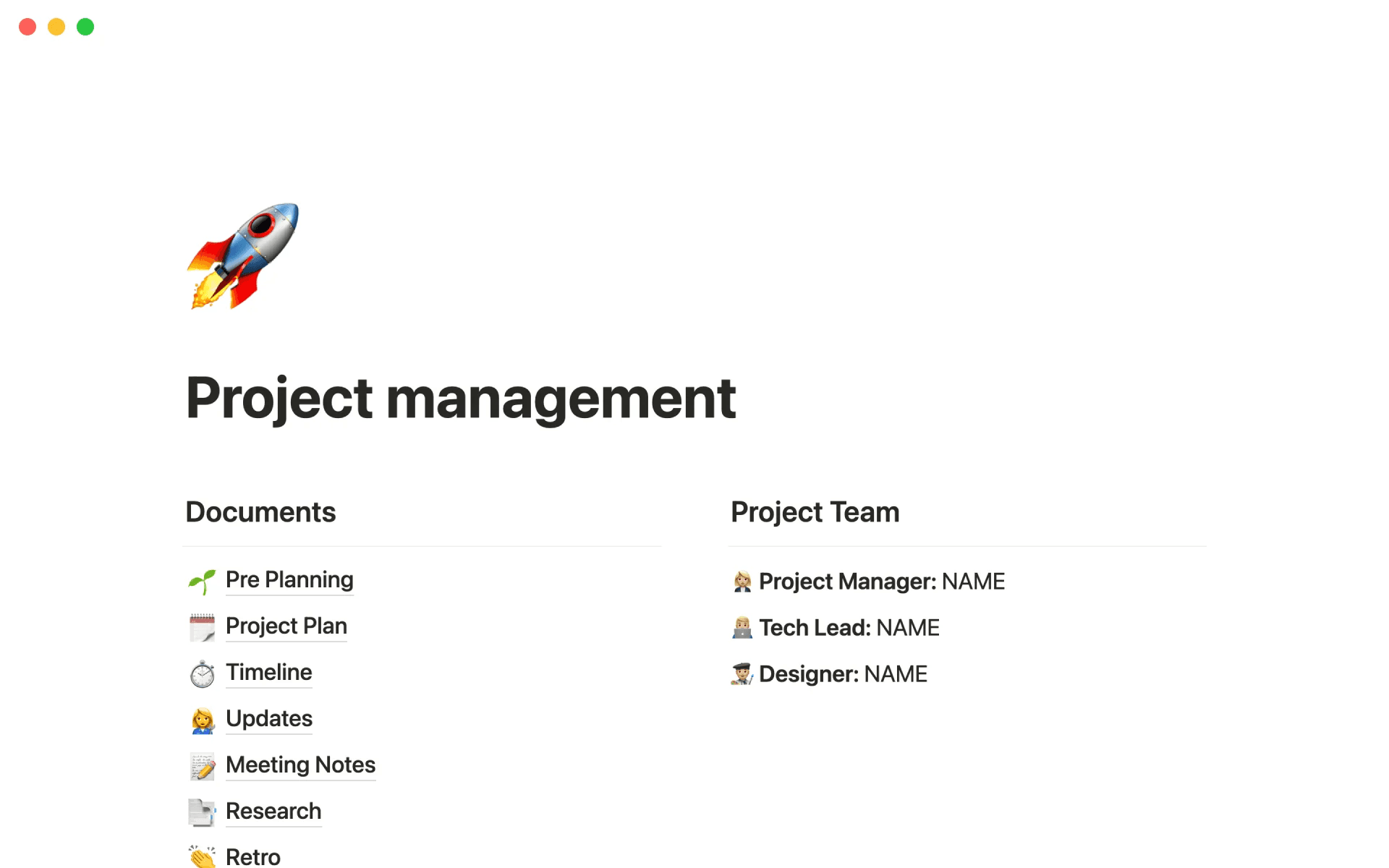 A comprehensive project management template that you can easily copy and paste to get started planning your next project.
Access it here : https://www.notion.so/templates/project-management
Notionway's Project management template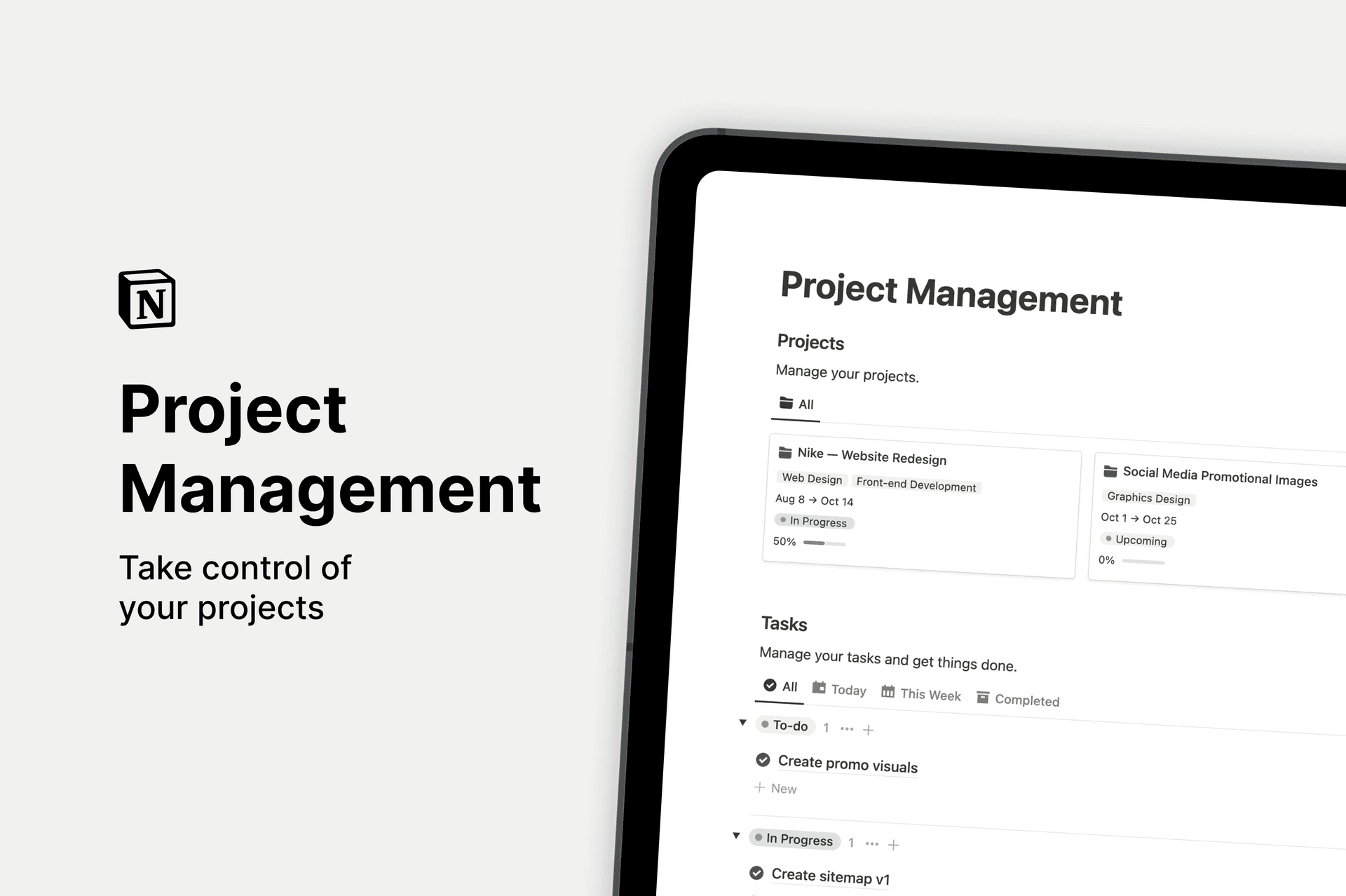 Use this Notion Project Management template to complete your projects faster by having the rights' system in place.
Access it here : https://notionway.gumroad.com/l/notion-project-management
Create Your Notion Project Management System
Build a Home Page: The first step in setting up your Notion project management system is to create a dedicated home page. This home page will serve as the central hub, providing easy access to all your projects and essential information. Consider giving it an intuitive title, such as "Project Dashboard" or "Team Workspace."

On this home page, you can design it in a way that suits your preferences and needs. For instance, you may choose to have an overview of all ongoing projects with brief descriptions or statuses. Additionally, include links to other crucial pages, such as meeting notes, task lists, or shared resources. The goal is to create a user-friendly, information-rich starting point that keeps everyone on the same page.

Set Up Project Databases: To ensure efficient project management, create a separate database for each project. Databases are like custom tables where you can input, view, and organize project-related data in an orderly manner.

In each project database, define relevant columns, such as task name, task description, assigned team member, due date, status, and priority. You can customize these columns based on the specific requirements of your projects.

Whenever a new project arises, you can easily duplicate the existing database structure and make any necessary tweaks, streamlining the setup process. As your projects evolve, these databases will become invaluable tools for tracking progress, managing tasks, monitoring milestones, and keeping an eye on available resources.
By following these two essential steps, you'll create a well-structured Notion project management system that fosters collaboration, promotes transparency, and empowers your team to stay organized and productive. Embrace the versatility of Notion, and witness your project management endeavors reach new heights of success.
Leverage Notion's Powerful Project Management Features
One of the greatest assets of Notion lies in its diverse array of features, purposefully designed to streamline project management. As you embark on your journey with Notion, make the most of these invaluable tools:
Tasks:

Seamlessly create and manage tasks within Notion. Assign responsibilities, set due dates, and monitor progress effortlessly. Keep everyone informed about their roles and deadlines, promoting a proactive and productive team environment.

Calendars:

Embrace the visual clarity of Notion's calendars to gain a clear overview of project timelines, deadlines, and milestones. Effortlessly schedule meetings, track events, and ensure efficient time management across the team.

Lists:

Organize information efficiently through Notion's versatile list feature. Utilize lists for to-do items, project specifications, resource inventories, or any structured data, ensuring clarity and accessibility for everyone involved.

Boards:

Implement boards for a visually engaging and interactive project management experience. Utilize drag-and-drop functionality to prioritize tasks, track progress, and seamlessly adapt to changing project requirements.

Documents:

Leverage Notion's dynamic documents to craft comprehensive project documentation, share insights, and foster collaboration. These documents act as living resources, accommodating real-time updates and providing a single source of truth for the team.
By skillfully incorporating these Notion features into your project management workflow, you will empower your team to stay focused, organized, and collaborative. The richness of Notion's capabilities will bolster your project's success and foster a harmonious team effort. Embrace the power of Notion, and witness your projects thrive with enhanced efficiency and cohesion.
Streamline Your Notion Project Management with Automation
Unlock the true potential of Notion by harnessing the power of automation in your project management endeavors. Notion's remarkable capacity for automation will revolutionize the way you work, granting you more time to focus on what truly matters. Here's how to integrate automation seamlessly:
Automate Routine Tasks:

Rely on Notion's automation capabilities to handle repetitive tasks effortlessly. For instance, automate the creation of recurring tasks, update status based on due dates, or send reminders to team members when deadlines approach. Embrace these time-saving solutions to maintain your efficiency and effectiveness.

Stay Proactive with Reminders:

Utilize Notion's built-in reminders to ensure you never miss a beat. Set up timely alerts for key events, deadlines, or important milestones. These reminders act as gentle nudges, keeping your projects on track and minimizing the risk of oversight.

Explore Notion Integrations:

Tap into the vast array of available Notion integrations to supercharge your project management system. Integrate with third-party tools like task management apps, communication platforms, or time tracking tools to consolidate data and simplify workflows.

Customize Workflows with Templates:

Save time by creating custom templates that fit your unique project management needs. Design templates for project planning, task tracking, meeting notes, and more. These templates expedite the creation process, ensuring consistency and standardization across your projects.
By embracing automation in your Notion project management system, you'll witness a significant boost in productivity, enhanced organization, and a reduction in manual efforts. Set yourself up for success with automation and explore the myriad possibilities that Notion offers. Elevate your project management to new heights, all while enjoying the benefits of a streamlined and time-efficient workflow.
Conclusion
In conclusion, Notion emerges as an exceptionally robust and versatile tool, serving as an indispensable aid in managing projects for teams. The step-by-step guide presented in this blog post equips you with the knowledge and techniques necessary to establish an effective Notion project management system, enabling enhanced organization and productivity for both you and your team. Embrace the capabilities of Notion, and experience a seamless journey towards successful project collaboration.